2nd Annual Shindig hosted by U + Me = We Back
Nov 30, 2015
By Tracey Bivens
They created history. You kind of have to be an out of towner stepper to really get it when I say that U+Me=We created history with their two day steppin affair in Detroit this weekend. In my 15 years of steppin, I have never seen weekend steppin affairs thrown by an instructional organization that did not feature instructional workshops of any kind. To sum the weekend up in Sherry Gordon's words, "this weekend was all about having fun."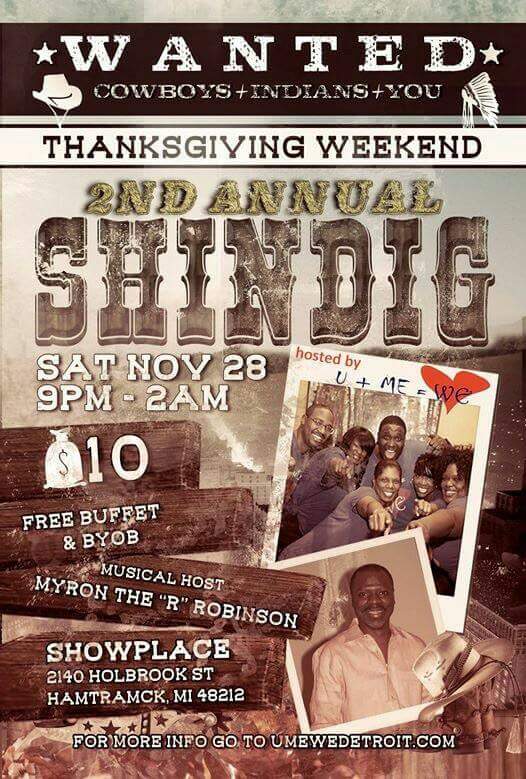 Shindig Highlights:
After patrons waited outside in 30 degree weather for the doors to open at The Showplace in Hamtramack, MI…Chicago's DJ Myron Robinson brought the house down Saturday night from the moment people walked in the door. Because U + Me = We elected not to have reserved seating, women AND men made a concerted effort to stand in line early to get perimeter floor seating. It is so much better when there's no reserved seating. Of course, there was cowboy and Native American attire everywhere. In addition, every flavored Jello shot in the world, compliments of Mixologist Michelle Crowder, allowed patrons to experience the party on a whole new level of "fun."
Steppers sets socialites Kathleen Wiggins, Sam Fairley and Josiah Burt made appearances along with Willie Bell and the 70s Group. Willie Bell is known as one of the modern day historian of all things steppin and makes a major effort to keep the Original Style Steppers from the early 1970s relevant by attending many of the major events around the country. I would implore any promoter to seek out Willie Bell on Facebook to view all of the pictures and video snippets of the steppers from this era. Heck…to that end…invite the group to your city. To see Original Style Steppin up close and personal is always a treat. Others members who attended include Gina "Gigi" Bell, Dian and Michael Davney, Darlene Fuller-Davis, and Carlene Aklin.
The Coyote Ugly Girls showed their dance skills once again this year during intermission and were well received along with an eight person birthday line.
As an aside, the dance community showed strong community support for Chicago's Qianna Wilson as her family endures life's storms. These are the moments that make this more than just a dance.
The Brunch Highlights:
The Fun! The Food! The Frolic!
JEANY BRADLEY has got to be the coldest female lead stepper on the planet! Yup…I said it. As the pandemic of the female leads comes into the forefront, Jeany leads the way on all counts. I remember always seeing her with Cliff "Big Slim" Reynolds in the early 2000s and was always in awe by her smooth following skills and to see her leading this weekend… I hope she's ready to hit the road for a slew of private instruction invites around the country after this weekend.
JOHN LUCAS-He's the 6 foot something gentleman who has the picture perfect smile and a definite love for the dance. When the word "yaaasss" is spoken, you can't help but think of this Broadway actor who has toured the entire country and abroad. He's young in the dance but old in the spirit of having "fun."
SHAWN BANDY-When people used to talk about there not being a legacy after Tyk Myn and Andre Blackwell, I think they just had to wait for Shawn Bandy to develop. Ultimate props goes out to this humble gentleman whose always working on his craft and mixing the New Skool and Old School into his dance.
I found out that Kenny, the owner of Firewater II, did the cooking for most of the meats at the brunch. Gone Kenny…you put ya foot in it again! Detroit photographer Melvin Munningham of Munningham Photography was in the house as well as Amanda Anderson. By the way, Melvin is the guy who took the awesome Worlds Largest stills from this year's contest and posted some on Facebook and received numerous job offers as a result. It pays to market yourself on social media.
Detroit's DJ Paul Ross "The Boss" repped half of the brunch set and set the tone. Ironically, a young lady from Ohio asked me to address why Chicago's DJ Michael Black Cool Thornton is getting so many invites to play at out of town events all lately. I will offer this. If you are not from Chicago and you "stick to the script" and play true steppers cuts from the 70s, 80s and 90s interchangeably with your unique signature and you stop trying to play what you THINK people want to hear…you will make your niche in the market. DJ Black Cool is coming to Detroit next week to Jeff Clark's Firewater Saturday set. If you don't believe the hype, then I suggest you come out for the experience.
In the house included people from Detroit, Ohio, Illinois, New York, Georgia, and Philly. Shout outs to Karen Ware, Michelle Mason, Lynne "Ms. Cheesecake", Maurice Thomas' crazy butt, Sharon Reed-Mays, Debbie Deb, Vet Ann, Terez Turq Tolbert, Amy Rosseter, Kim Bufford, Jennifer Toles, Darlene Mans, Oni Faulkner, Neicy Johnson, Darby "Mr. Debonair" Settles, Frank "Big Slim" Wesley, Karla Jeffries, Nicole Jones, Larry Collins, Cheryl Powe, Kim Crump, and all the rest of the other VIP members in the steppin community.
500 people came out strong to support Sherry Gordon, Edward Donaldson, Michelle Jones, Nikisha Nabors, Derek Ross and Shawnie Hubbard this weekend. No gimmicks were used, no ulterior motives to bring people out…just an offering of love and fun which U + Me = We got in return.