The 12th Annual White Party Weekend Review Back
Jun 22, 2015
By Tracey Bivens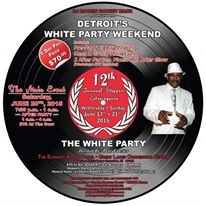 With the shootings in South Carolina looming over everyone's heads this weekend, over 2,300 people managed to make their way to Detroit for DJ Rockin Rodney Mack's 12th Annual White Party Weekend. Weekend my butt…it was more like a Step-a-thon for addicts. Nine parties in five days has got to be the record for a mega steppin event. I think that I speak for a lot of steppin veterans when I say, "I'm tide and I'm going to bed!"
Wednesday, Day 1
Can you believe it? Two hundred plus people packed Bobby Green's Steppers Café Wednesday night. That has got to be a record for a Wednesday there. The White Party is serious business evidently in that people are scheduling their vacations around it. I'm not really sure if handing out tickets and having them stamped or hole punched for every night of attendance is the best way to keep track of weekend passes but as one of Rodney's "Angels" I spent the whole night shaking my head in disbelief at the attendance numbers. DJs K-Mix, Steppin E and The Mackster were the turn table doctors for the evening.
Thursday, Day 2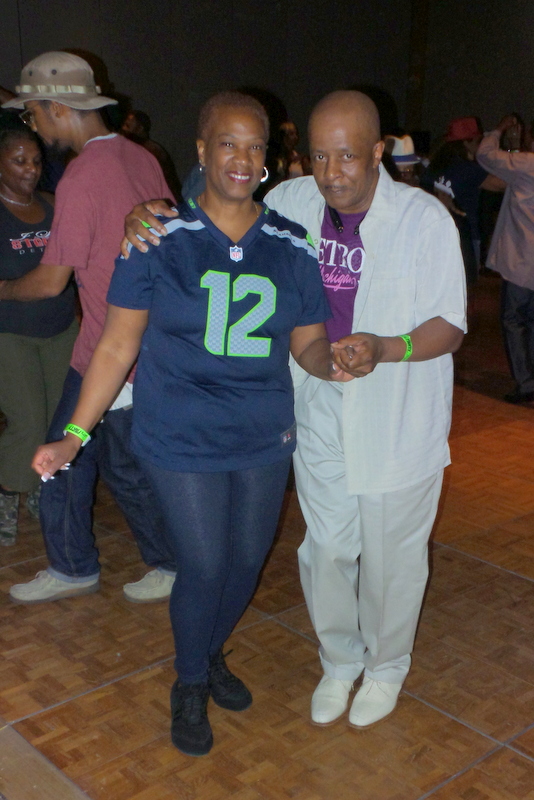 I don't know what the out of towners did on this day because many of us local folk went to work but I was busy scheduling television appearances for a few steppers in Detroit to go on local news stations promoting the weekend and the dance. The news vignettes included Sherry Gordon, Ed Donaldson, Drew Alexander, Kirk Peterson, Oni Faulkner, Arnel Cross, Larry Collins and Daniella Borum. If you go on any of their Facebook pages…you can catch them all reppin the dance nicely. I wish that we all could continue to work together in this kind of capacity more often.
Thursday night's set brought with it more people and more music by DJ Steppin E and Rodney Mack. People stayed on that dance floor and I guess at the end of the day "getting it in" is the name of the game.
Friday, Day 3
Deborah "Partypeople" Dixon presented her karaoke hour and the steppers stepped up to the plate with everything from Jill Scott renditions to Boogie Oogie Oogie by A Taste of Honey. I even belted out a tune or two. For some reason, I sounded drunk and I don't even drink…hmph...the beauty of karaoke. I actually like dancing in the Rotunda Room on the 16th floor. There's something about steppin with a panoramic view of the city.
Thursday night featured DJs Larry Cross and Shorty Smooth followed by the after party with DJ Black Cool. Larry Cross has got to be one of the most passionate DJs on the set today. I was really impressed with his commentaries at the forum on Sunday but I'll get to that later.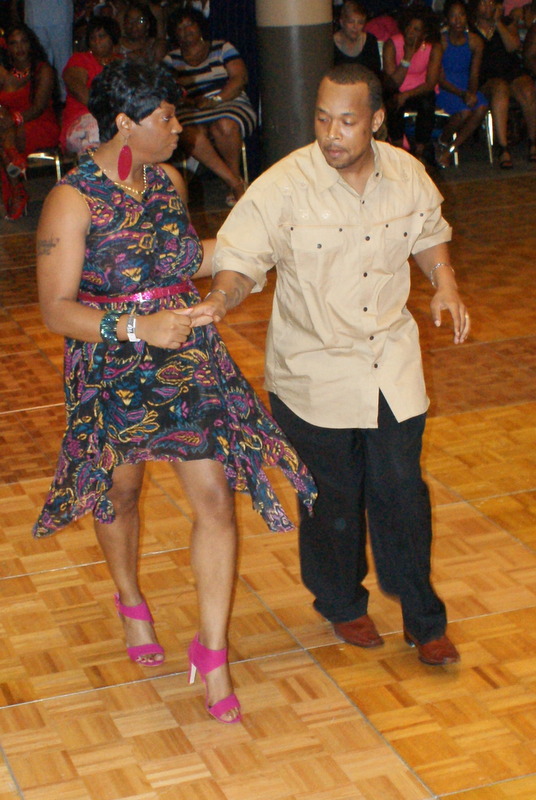 MUCH PROPS to DJ Black Cool, Michael Thornton, for playing the kind of music that made me want to step all night. It wasn't about playing songs that were brand new or simple classics and playing them for the hell of it, this young man played the kind of music that you don't hear on the radio but it's got a groove that you can feel with your "feet." If he and Mello Khris joined forces and did a set togetheeeeerrrrrr…oooweeee.
The WLSC Prelims…just sign everybody up. We don't have to "like what you see make some noise" just have everybody sign an entry sheet. (Forrest Gump voice) That's all I have to say about that.
Meanwhile, all eyes have been on Chicago Original Style Stepper Kathleen Wiggins and her quick feet. Lady Tabu as she is affectionately known will let any woman "have it" on the dance floor when it comes to Original Style Steppin. Look out for her feature interview later this week.
Saturday, Day 4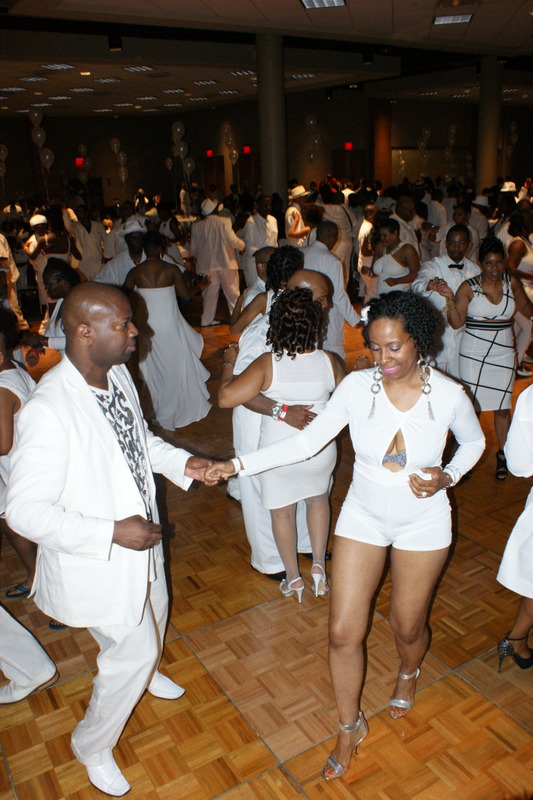 These people are still dancing at the day party…go figure. Meanwhile people are lining up at the door at 4:oopm to insure perimeter seating at the party. I gotta be honest with you ladies that were pushing and shoving inside the ballroom. Sitting on the dance floor does not guarantee you will get dances, it only guarantees you get a good view of the dance floor and who is dancing on it. Men are not going to gravitate towards the "floor sitters" (new steppin term added to the lexicon) because they are beginning o realize that the women who wind up sitting in the back DESERVE the dances the most and those ladies are getting the dances. There's no if, ands or buts about it. I am sending out this challenge to all the promoters and men who attend these events. Make it a point to dance with at least 5-10 women who are sitting at the back tables during a set. This suggestion comes from instructor, Sunny Dew, out of Los Angeles and he says it works for their sets out there. Larry Collin's covered this in his "So You Want to be and Instructor?" workshop. I recommend people bring Larry and his powerpoint to your city if you want your classes, events and organizations to develop and grow substantially.
Shouts out to the hundreds of women sporting natural hair styles this weekend. There were not a lot of weaves with bacteria traps on display. Woo hoo!
When I saw Mellow Khris walk into the building, I immediately got happy. Why? Because I knew Khris was going to play songs and snippets from songs that everybody was going to love on that dance floor. He's been doing it ever since I first heard him play in 1997.
Before anyone knew it, there were 1,500 people in the ballroom and fire codes were being broken. Also, there were a lot of cheesecakes being served from the ladies who insisted on wearing tight clothing that showcased their assets. Men also seemed to rely on those wet sweat rags they carried in their hands while dancing and dancing with wet backs. Yuck! Fortunately, we opened up an overflow room which accommodated the people who couldn't handle the size of the crowd. Translation…Rodney get a bigger venue next year.
Sunday, Day 5
The Forum. I'm going to tell you just like I told Terrance Pratt. There is a renewed interest in Original Style Steppin and all of the New Skool instructors better learn to teach it because as Sherry and Ed go around the country displaying it, people are liking what they see. This may be one of the reasons why the Legendary Jannice Robertson had the largest workshop of the weekend with 40 attendees. For anyone that has any doubts, Jannice Robertson is one who can give you a workshop worth your time and dime. Larry Collins, Kevin "Doc" Dockery and Drew Alexander sat on the panel with Robertson. Subjects were touched upon that dealt with instructional practices, self-assessments and accommodating women who want dances. One key point centered around Drew Alexander taking a hit for "strongly suggesting" that his students enter competitions instead of letting them make the choice for themselves and just enjoying the dance. Maurice "Reece" Thomas was also very vocal about people respecting the pioneers of this dance. I love Terrance Pratt for what he has done with Chistepper.com. And I want to make sure people understand that even though disrespectful comments were made by a person on the panel about T Terrance Pratt's opinion being the only valid one in steppin, my response is this: The laws of nature demonstrate that what goes up always comes down. The only choice you have is do you wanna land safely or crash abruptly? When you are young and limited in your experiences…it helps to listen more than it does to speak.
Day parties, Night parties…sleep parties. Even though the picnic was cancelled, DJs Amy, Butta and Carmella all represented on the tables. The other events are all a blur by now. I'm just operating on pure adrenalin. However, I had awesome interactions with the following individuals this weekend.
Terez "Turq" Tolbert, Damian Meale (New York), Marcel Richardson (Lansing), Debbie Richardson (Louisville), Debbie Rhodes (Cleveland), Abby Johnson (Flint), Joy Bufford (Akron), Marcus Reynolds (Chicago), Henry Williams (Virginia), Scott Freeman, Patrick Moore (Memphis), Tracey Sisico (Boston) and Simmy Sweetallthetime (Laughing…I knew I was going to forget the GN).
In the house were, You+Me=We, Darlene Mans, Brenda Williams, TJ, Richard Cochran, Ann Hunter, Darby "Mr. Debonair" Settles, Charnice Simmons, Pete and Linda Frazier, Brenda Gold, Stoney and Toni, Ira and Gail Blakely, Tabaka Ososduagwulke, Willie Bell, Karen Ware, Kirk White, Teresa Odom (Yes…we should insist 5% of proceeds from these mega events should go to social causes), Carolyn Carter Rawlings, Barbara Kolar-Steeves, Vet Ann (letting them have IT every time you wear something), John Lucas, Angie Fletcher, Sharon Reed Mays, Cornell Harper, Dian Davney and Jamie Graham.