Detroit Gets Hyped for the White Party! Back
Jun 16, 2015
By Tracey Bivens
There's no turning back now. The 12th Annual Detroit White Party officially starts tomorrow night at the Steppers Café in Southfield with Graystone Workshop Instructors, Bobby Green and Tamera Patterson, and does not end until Sunday night. Whew…that's a lot of steppin!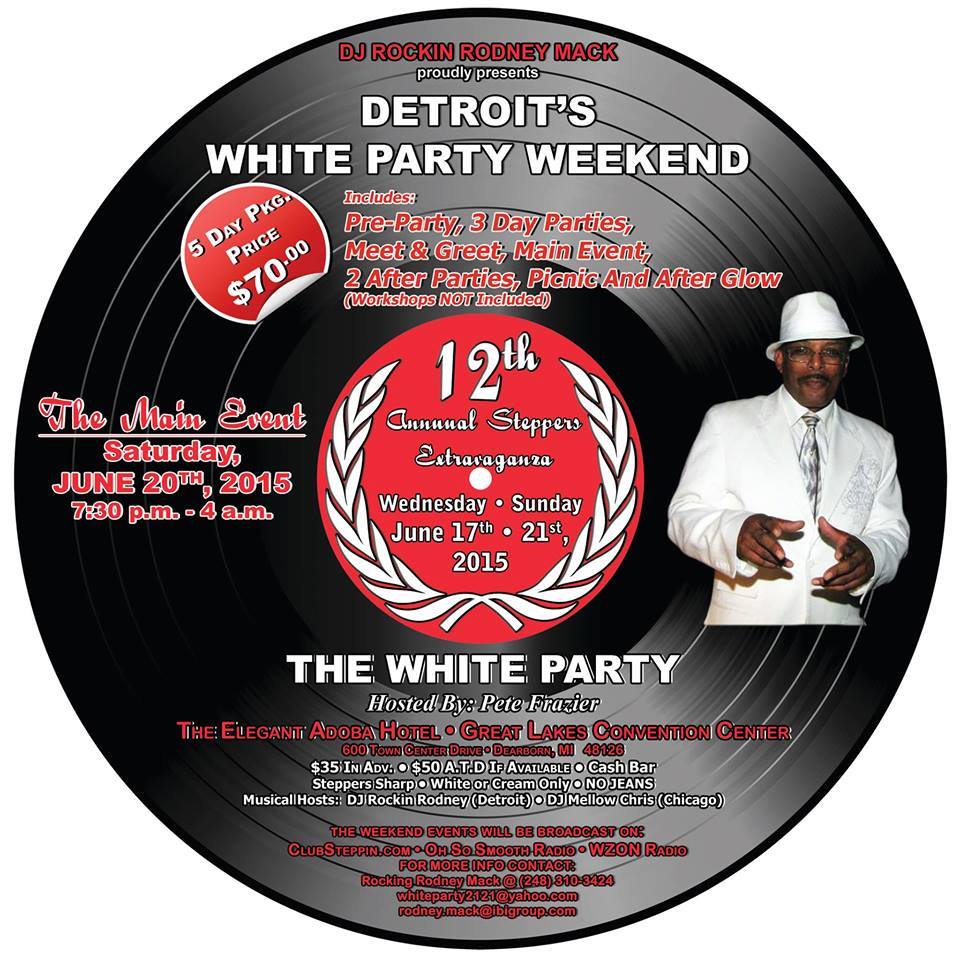 I wanted to mention a couple of things that I'm personally looking forward to as the first of its kind during this event.
Original Style Steppin is being taught for the first time at The Detroit White Party! Legendary Original Style Chicago Stepper, Jannice Robertson, will be providing the history of the dance most importantly and anything that she feels is necessary to share with attendees of her workshop. New Skoolers…you don't want to miss it! Secondly, Larry Collins of The Steady Steppers will be conducting the first ever "All Things Steppin" workshop that will cover questions like, "I want to be an instructor…what do I need to know?" "I want to start an organization…what do I need to do it?", "I want to be a promoter" etc. This workshop is definitely worth attending for all of those people who have contemplated these questions at one time or another. There will also be a visit from someone veerryyyy special that we all have not seen in a long time. When you see him…you'll understand. He helped to make The Detroit White Parties successful back in 2007 with his guest appearance and endorsements.
I am very proud to say that I have arranged media coverage for the weekend through several entities, television and media, which we have never had before. Stay tuned for details on who to watch, when and where! Jeff Clark will also be on hand with his "I Love Steppin" apparel this along with Freda Jenkins' Lucky Duck collections.
Lastly, I am looking forward to meeting many of the Original Style steppers who are coming out in full force this weekend from Chicago, Illinois. At last count, there were over 100 registrants. In addition, we have steppers from 30 cities across the United States and abroad.
Finally, I'm looking forward to (weather permitting) Lynne "Ms. Cheesecake" Batten who will be providing vending services for the Sunday picnic attendees. If you think her cheesecakes are the bomb…….!
It's not too late to get your tickets. Rodney Mack told me this morning that Friday and Saturday night event tickets are ALMOST at capacity so I'm encouraging people not to wait to get their tickets at the door. For more information, please contact Rodney Mack's Facebook page or The 12th Annual Detroit White Party Facebook event page.
See everyone tomorrow!