The Quiet Storm is in Cincinnati...April Burns Back
May 12, 2015
By Tracey Bivens
"If we could embrace each other's style and creativity…more people will be drawn to this dance and stay in it! Negativity and politics did not come to life until I stepped outside of Cincinnati or until others moved in." ~ April Burns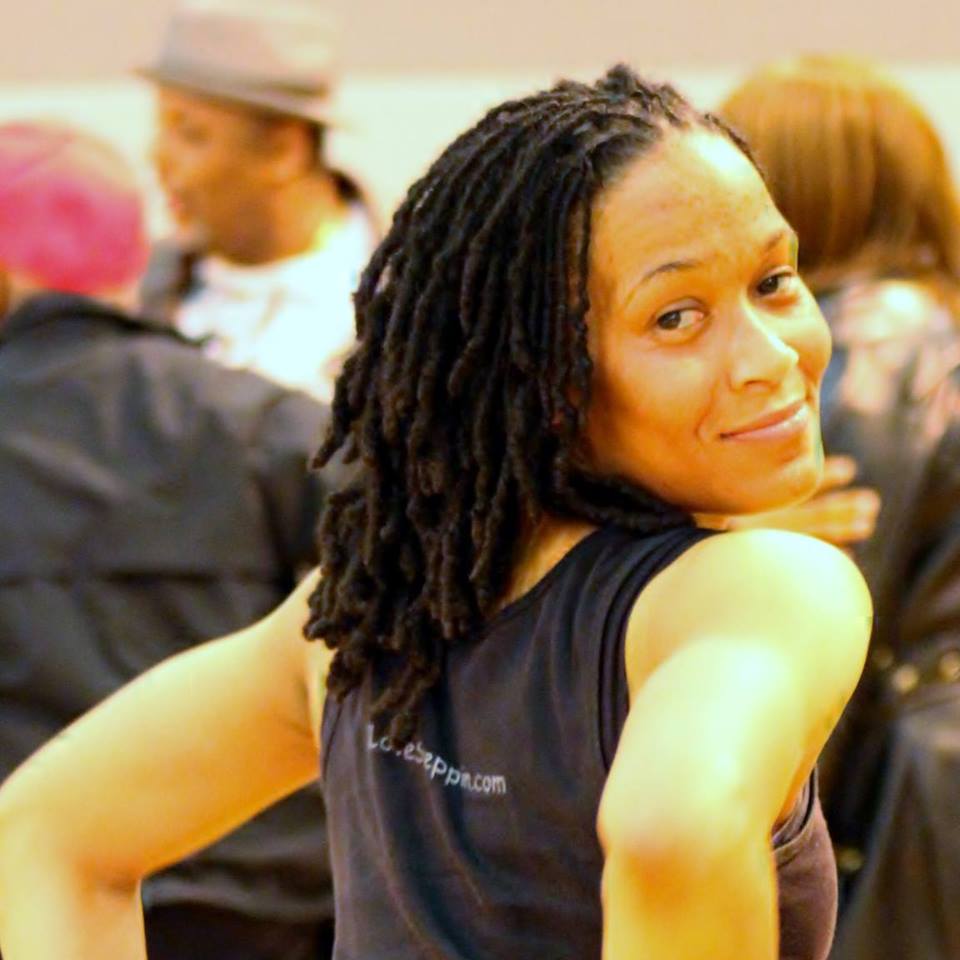 There are a lot of storms passing through our nation right now. These tornadoes and floods are destroying everything in its path. There's another storm that's brewing out of Cincinnati. This quiet storm plays host to April and JB Burns, the husband and wife instructional team who together… are determined to put Cincinnati on the steppin map. I did an interview with Chicagoan, Josiah Burt, a couple of months ago and he mentioned April Burns as being one of two "get down girls". These are types of women who can follow men without any problem. Well…since that day, people have asked me about April and what her story is about. I sat down and took a minute to speak with April Burns to find out about her views on steppin and competing, fitness in steppin and staying out of the ball of confusion.
Tracey: Hey April…I finally had a chance to see you at Jeff Clark's I Love Steppin 7th Year Anniversary weekend this year. You sit in your seat very quiet and demure but when you get out on that dance floor…! You seemed to be having a lot of fun and I probably saw you sit down once or twice at the U+ME=We Sunday brunch. What has your journey in steppin been like so far?
April: Overall it has been great. I have met a lot of great people, built a lot of great relationships, and have traveled to places I never would have gone to if it wasn't for steppin. I have been steppin since I was 24. I was really into Line Dancing before I got into steppin. My husband JB was a line dance instructor at this time and one day he asked me to go somewhere with him (Laughing). He took me to a steppin class that was being taught by Cincinnati's own, Warren and Maria Turner, who would travel to Chicago and was learning under Donnie Davis. They started out teaching 6 six count. I fell in love with dance after my first few classes. After a year or two of learning 6 count there was a couple that moved in, Will and Maisha Diggs, by way of Chicago, that introduced Cincinnati to 8 count. This couple learned under L.C Henderson. After attending a workshop in Columbus featuring Brian "Steppin B" Patterson we became even hungrier for the dance. Steppin B took both my husband and I under his wing and that's when our dance begin to elevate. From there…it's been on. We are officially a part of the SteppinB.com/Cincinnati network of steppers.
Tracey: Were there a lot of workshops given in Cincinnati or did you all go to Chicago a lot?
April: To be perfectly honest I have only been to Chicago twice and that was simply for the WLSC. It's strange because several people when they see me dance would ask me if I was from Detroit or Chicago. When I say I'm from Cincinnati it's such a huge shock! But I am able to explain my dance because for most of my steppin years I learned under a Chicagoan. There have been several people come in and do workshops. The first person that I can remember coming to Cincinnati was Tony Dow and crew.
Shortly after, Cincinnati had their first steppers set, put together by Cincinnati Elegant Steppers, centered around the Jazz Festival. The first set featured several instructors. Those instructors were Donnie Davis, Dre, Charnice, Deon Farr, Shorty Smooth and probably a host of others that I can't remember right now. "Steppin B" left a trademark in Cincinnati. Then throughout the years we have had other instructors such as Candace, Feo, Keesha, Nikee, Tori, Lady Margaret, and Keith Hubbard. I feel like we have had every instructor come through Cincinnati; however no one ever came back. I wonder why? (Laughing)
Tracey: When you met up with Josiah Burt and he got you on the dance floor, what was going through your mind knowing you were about to dance with an old school stepper from Chicago? That can be pretty intimidating.
April: When I first met Josiah I didn't know that he was an Old School stepper. Whether people are old school or new school is not something that I really focus on, but he looked like someone I should dance with. I met him when he came to Cincinnati. Josiah danced with many of the women and I noticed that some of the women seemed very intimidated or confused as to what was going on during their dance. Josiah seemed a little frustrated too because the level at which our ladies dance did not allow for him to get it in like he really wanted to (Laughing). I wasn't so sure that I could hang either but since I am a competitor and I love a great challenge I asked Josiah to dance and that's what we did. I was more intrigued by his style of footwork. I allowed him to take control of the dance. A lot of women are taught to be mechanical but I just threw everything out the window. I followed his rhythm. Before we started though I have to admit my heart was beating out of my chest (Laughing).
Tracey: Seeing as how Cincinnati is one of the smaller cities in the steppin network, how were you and your husband planning to put it on the map…your city that is?
April: My husband and I knew that if we wanted our dance to grow that we had to get out of Cincinnati and go get it. So we traveled a lot, took various workshops and anything that we learned while traveling we brought it back to the city. We decided to enter into the World's Largest in 2011 and 2012. Although we didn't place either year, we wanted people to know that steppin had made it to Cincinnati. Because I'm one of the younger steppers in my city, it was really important to me that I represented the dance with integrity along with my husband. But after all of the traveling that we do, I'm beginning to notice that several of the "best" steppers are not the ones getting into contests. There are a lot of great dancers that are often unnoticed.
Tracey: How has this dance treated you and your husband thus far? Couples can start off together in the dance and things can go south pretty quickly because of other people's disrespect of relationships.
April: Let's be real, we had some people really try tear down what he have built. My husband and I were dating for 7 years before we got married. We just had our two year wedding anniversary. At the beginning we had our share of friction when we started steppin because we were not acclimated to the steppin community and everything that comes with the territory. Now that we are married we set our guidelines. He respects our marriage and so do I. I know men are scarce in this dance and women have attempted to be disrespectful at the sets. Men have also approached me. However, we both understand and enforce the expectations we have set out for each other. A lot of people know us because we've built dance relationships with them. That's always been key. We respect what we have and we expect others to do the same. We hold each other accountable because we can't control what other people do. When we go to a set we have a routine. We normally dance the first three songs together and then we split and go our different directions. There are certain songs that belong to us and at those moments we find each other. When it's time to leave… we leave together.
Tracey: How has it been…building these relationships in the steppin community? There are a lot of politics out there.
April: You know what? I don't get into the politics. We stay away from a lot of the negativity. We come to dance. Building relationships with people has been easy, trusting people is the hard part. For the most part, I see people getting emotional about the dance from…how do I look…who they don't like…telling other people how they should dance…etc. I have really seen people get emotionally torn over this dance. One of the biggest things I hear the ladies complain about is not getting dances or enough dances. My theory is and will always be "if you want to dance, get yo punk ass up and dance" (Laughing). I don't wait for anyone to ask me and I have never had a problem getting a dance. We, as women, have too many expectations for men that do not belong to us. The only etiquette I care about when I go to a set is my husband's and how he treats me. Although he is not disrespectful and I care about how he treats others, other women should not expect my husband to treat them like he treats me. My husband and I have had people try to tear down what we're doing as instructors. We know that people are "sneak dissing" but we won't entertain ignorance and don't have the energy to pour into negativity. It's like certain people believe that steppin will elevate their lives and for some reason make them relevant. They are obsessed with being heavy hitters or have that desire to be well known by everyone. I've seen good things and bad things in the name of steppin.
Tracey: (Shaking my head) I could write a book about that subject April…believe me. Changing gears…you are definitely very fit and you seem to have an endless stamina. Can you share some of your fitness tips with us? (Laughing)
April: I have a story behind me. To know my story is to understand who I really am. I was a premature baby and I have had several operations in my life. I was told that I would not live past the age of 5 and I would never be able to live a normal life and do what normal people are able to do. But here I stand about to be 32. I have overcome all those challenges and have done everything the doctors said I would not be able to do. I still deal with health related issues that I will deal with for the rest of my life. I was a tomboy growing up. I played basketball, volleyball, and track. I played both basketball and volleyball on the collegiate level. I've always been active. I coach middle and high school athletics and I train in the weight room. A lot of women are not into lifting weights but you can "tone" as opposed to "bulking" and that's what a lot of women don't understand. It's a lifestyle for me and I use it to relieve stress and maintain my health. God blessed me with one temple and it's up to me to take care of it. I would encourage more women to get involved with physical fitness…it's never too late. Your metabolism slows down as you get older, so it becomes more about how active you stay and what you take into your body.
My husband is 11 years older than me. JB is the entertainer in our marriage. He has always poplocked…he's into Reggae…African dancing and I've told him, "Okay…it's got to be more than just dancing to keep that weight down." (Laughing) My best advice to anyone who is not happy with their weight, looks, or whatever it is you have to be the one tired of it, and you have to be the one who changes it. Take time out of the day to take care of you! Fitness is a lifestyle. If I'm ever in your city and you want to work out just let me know.
Tracey: What has been the most challenging part of this dance for you so far?
April: Being who I am in this dance. So many people want to judge you and tell you what you are doing wrong and what they don't like to see…all the time! I am at the point in my dance that I am confident in what I do, how I do it, and will continue to always strive to be the best at what I do. I don't compete with others I compete with myself. Josiah said to me "Cincinnati Red, you are good but your footwork could always get better". I humbly take that advice, respect it, believe it, and will always continue to work on my dance because there is always work to do and there is no end to learning. Not only was he willing to give me constructive criticism, but he also said that he would help me along the way. Often times, people are willing to give criticism but are not willing to help others improve their dance. All of my teachings have come from men. People don't respect different styles and sometimes are afraid that you might do it better than them. I want to make sure I am comfortable with who I am in the dance and not look like the person next to me.
Tracey: …and your greatest triumph?
April: Getting on stage at the World's Largest and competing in heels. I've met a lot of steppers from the Chi and they are very critical about this dance and what they see. It takes a lot of courage for anyone to step into the light with a crowd of people just staring at you. I think I would have been more comfortable if I had actually spent more time in Chicago rather than just showing up to compete. I am proud of the fact that my husband and I were able to show the world what we felt was our best on those nights. We represented Cincinnati along with "Steppin B" very well.
Tracey: Anything else?
April: I did not get into this dance to receive accolades, accomplishments, or even compete. It's just a hobby!! However, I am one to give credit where credit is due. I want to say thank you to all of those people that have invested their time into making me into the dancer that I am today. I have to give a shout out to Steppin B and the Bee Hive family, Victor James (Artistic Motions), Greg Rashid (Cleveland), Will Diggs (Chicago), Larry Collins and the Steady Steppers, Ambrose West (Cleveland) Donnie Davis and GiGi, Drew and Ed, Keith Hubbard, Dre Blackwell, JB (my hubby), and all of my steppin brothers and sisters near and far. Dance can bring people together and it can also pull them apart. We do so much tearing each other down. It's time to put more energy into building each other up. If we could embrace each other's style and creativity…more people will be drawn to this dance and stay in it! Negativity and politics did not come to life until I stepped outside of Cincinnati or until others moved in. We are not going to let steppin change who we are …my husband and I are going to continue to support everyone, continue to teach what we understand and know about this dance and we are going to continue to be #TeamBurns.