Jeff Clark's I Love Steppin 7th Year Anniversary Review Back
Apr 12, 2015
By Tracey Bivens
You have to love Jeff Clark. As long as I've known this man...I've never seen him any other way but cool, calm and collected. I don't think I would have been as calm switching up venues, DJs and other mainstays during his I Love Steppin 7th Year Anniversary Weekend but someone…Jeff Clark never comes up short and always strives to be fair in every capacity.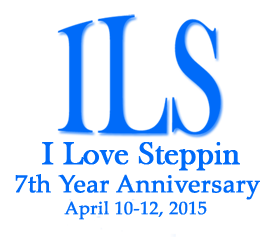 The Venue
Bye bye Shriners Auditorium in Southfield…hello to Dearborn's Ford Community and Performing Arts Center. Although many people complained of the Shriners fishtail stage in having to take a country mile walk to it, Jeff admits he would have still been there if other businesses hadn't occupied the space. The Performing Arts Center offered a huge square floor that accommodated over 500 people between Friday and Saturday nights. The wooden floor was flawless and with a little sprinkling of powder paved the way for a night of smooth steppin and walkin for everyone. However, I think people were a little confused as to why steppers insisted on dancing as close to the tables as possible instead of utilizing the entire floor. A couple of steppers stumbled out of spins and ran into chairs several times. DJ Larry Cross explained that he has seen this as the norm for most sets. The way he explains it…people don't like to venture far away from their seats because they can watch their stuff? I don't know.
Reserved Tables
Okay…quick discussion. If a table is purchased by an organization, how could you possibly think that you can sit at it if you are not part of the organization? There were several incidents where people sat down at tables…got mad and when asked to put five dollars down if there was an empty chair or two there. Is this fair to the people who get reserved tables. No.
Now What Do We Do?
I hear people ask this every year during the Saturday lull before the night party. Jeff Clark always offers steppin… only. Imagine the Saturday Firewater afternoon parties. You come, eat and dance. The weekly Saturday set at Firewater still goes on with DJ K-Mix and Rodney Mack DJing but there are no workshops, dancing girls, gambling or other amenities offered However, the team of U+Me=We offered a few attendees the opportunity to participate in Knickerball? For those of you that don't know think Dodge Ball…only you are wearing the jellyfish looking ball and you are ramming yourself into your opponent and trying to knock them down. It definitely looked fun on the Facebook pictures.
The Guests
Visitors come from Michigan, Ohio, Illinois, New York, California, Georgia, Florida and other states to support Jeff's parties. However, this year a lot of attention was drawn towards Chicago Original Style Legend Jannice Robertson and Lil Lloyd. When I tell you that Old School steppin is coming back with a vengeance…I mean just that. Interested onlookers who are tired the endless spins that come with New Skool steppin are VERY interested in learning how to learn and develop their hand signals and footwork. Rockin Rodney Mack will actually be featuring Jannice Robertson, Don Vic and Ice Ray in their own workshops this year at The White Party. Something tells me that the true knowledge of Original Style Steppin will be dropped and attendance will be high. By the way…look for my interview with Lloyd "Phatboi Pontoo" later on this week when he talks about being one of the youngest guys on the Chicago set who is determined to do the dance correctly with "no math" (numbers).
The Brunch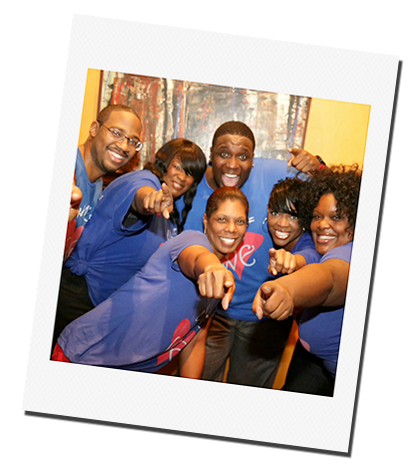 U+Me=We is here if you didn't notice! If you ask anyone to tell you about the Funday Sunday Brunch which highlighted members Edward Donaldson and Derek Ross' birthdays, they are probably going to focus on the picture taking and the costumes. As you entered the door, you were greeted by the other members Sherry Gordon, Michelle Jones, Shawnie Hubbard and Kisha Nabors featuring Michelle Crowder. You were then participating in a sea of picture taking wearing a assortment of …well…anything. If you have Facebook access…you'll see the pictures. Their website is umewedetroit.com. The food is always on point and DJ Paul Ross "The Boss" and Michael "Black Cool" Thornton provided the sounds for the crowd.
The Sounds and Pictures
Not taking away from DJ Roy Shannon from Chicago but I'm not really sure what was going on with the music on Saturday night but the sound system had a heavy emphasis on the bass which created muffled sounding music and announcements were not audible.
I counted 6 photographers in the ballroom on both nights. Are the days long gone of photographers being able to make money when people have cell phones with digital cameras? Answer…yes. I'm not really sure what purpose picture taking against backdrops serve anymore but I would definitely encourage all photographers to come up with new gimmicks very fast in order to keep the integrity in their professions. I remember picture taking being very lucrative back in the day.
The Best for Last
The unannounced theme of this weekend could definitely be "I'm Still Standing and Steppin." Two very prominent members of the Michigan dance community, Mr. Ira Blakely and Sharon Reed Mays have both had very challenging health issues in recent months. If you could have seen the expressions of love on peoples' faces as they entered the venues…it would have melted your heart. Sharon spoke about how excited and happy she was about returning to the dance floor as did Ira. That's the part about steppin that I love. The true spirit of the dance and the love for it!
Congratulations to Detroit's own Mr. and Mrs. Steven and Denise Johnson who were married Friday. Love still happens on the Steppers Set.
In the house were the I Love Steppin Crew-Rose McDaniel, Deborah "PartyPeople" Dixon, Stan Brooks, Melvin Munningham, Amanda Anderson, Kazemde Ajamu, Pete Frazier, Vet Ann, Victor A. James Sr. and his lovely wife Lisa, (Teacher Crew) Geri, Ingrid Barbara and Joyce, Audra Lynn, Lanette Kelly, Neicy Johnson, TJ, Ann Hunter, Richard Cochran and Candy Prater (Thank you for being YOU), Oni Faulkner, Allen Davis, Cliff "Big Slim" Reynolds, Michelle Mason, Stacy Robb, Joella Bush, The Steady Steppers Larry Collins and Rickey Banks, Karen Ware, Lynne "Ms. Cheescake" Batten, Kishra Williams, Angela Scott, Eldon Brown and a host of others.
I remember Jeff Clark when he was a little J at Cuzins…now look at em! I would just like to thank Jeff Clark for providing the steppin community of Detroit with your hard work and love for this dance. You have always remained positive and determined and thank God you didn't listen to me and KP seven years ago at SIPS (wink).