The Versatility of Champions! Back
Mar 15, 2015
By Tracey Bivens
Versatile Productions is putting the finishing touches on their 3rd Annual "Champions of the Dance Floor" held at Burton Manor in Livonia, Michigan on March 27 and 28. That's right…it's a two day affair filled with a double meet and greet, the dance contest, live performances and workshops.
I sat down to talk with Versatile Productions' President Harvey Dobbs just to see how close they were to being ready.
Tracey: What's new this year with the contest?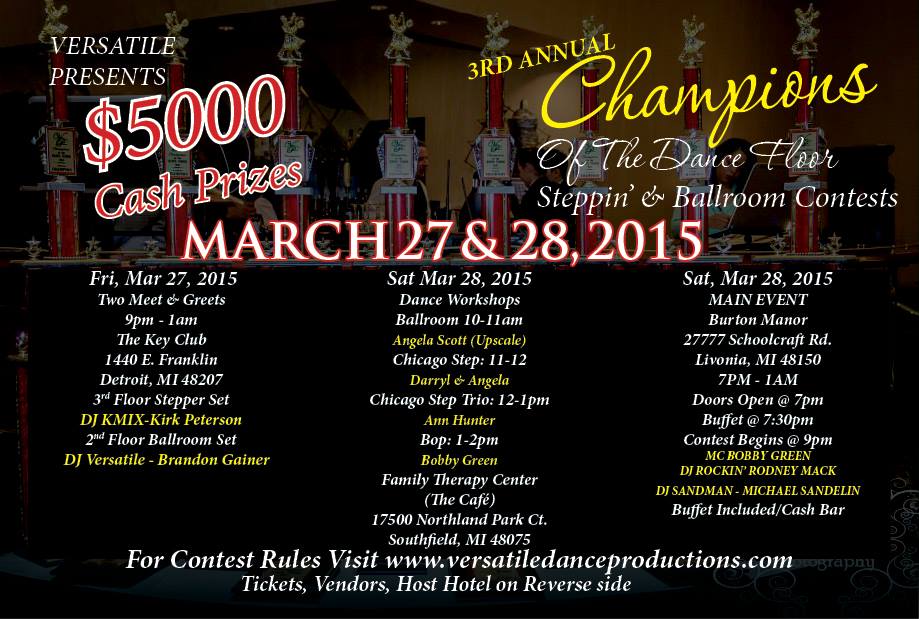 Harvey: It's a year of firsts. We have two new categories. Bop and Steppin Trio to go along with Chicago Steppin and Ballrooming. There's also going to be a live R&B singer by the name of Q Harper who will be following in the same steps as K Jon by working with DJ and Entertainment Promoter Tyrone Bradley. There's also a Meet and Greet party on Friday night which will feature a Ballrooming and Steppers set with DJ K-Mix (Kirk Peterson) and DJ Versatile (Brandon Gainer) at The Key Club. I think the $10.00 to get into both sets is worth the trip downtown. I also want to add that there are workshops being held on Saturday for each of the categories. Bobby Green with Bop, Ann Dobson Hunter with Steppin Trio, Darryl and Angela Chicago Steppin and Angela Scott will be handling the Ballroom workshop. Those are going to be at the Family Therapy Center (The Café) beginning at 10:00am.
Tracey: There were a couple of hiccups with last year's contests i.e. judging, parking, food prices, etc. What have you all done to address those issues?
Harvey: The contestants are going to be well educated on what to expect with all judging scenarios complete with literature. They will be familiarized with these items before the contest even begins. That was not made clear last year. As far as the parking situation…Burton Manor has free and ample parking for everyone who attends. Food is included in the ticket price and will start being served at 7:30pm.
Let me add this…the contest is not about who is the best dancer …it's about who follows the rules the best. Determination, faith and belief in yourself are key. If it doesn't work out for you this year…try again next year! There will be tons of Out of Towners entering from Denver, Atlanta, Chicago and Indiana this year. This is going to be good!
Versatile Productions is Harvey Dobbs, Brandon Gainer, Tasha Tillman, Dina Hardeman, and Vernita Willoughby.