I Love Steppin 9th Year Anniversary Weekend Review Back
May 1, 2017
I'm beginning to think that Jeff Clark can do no wrong!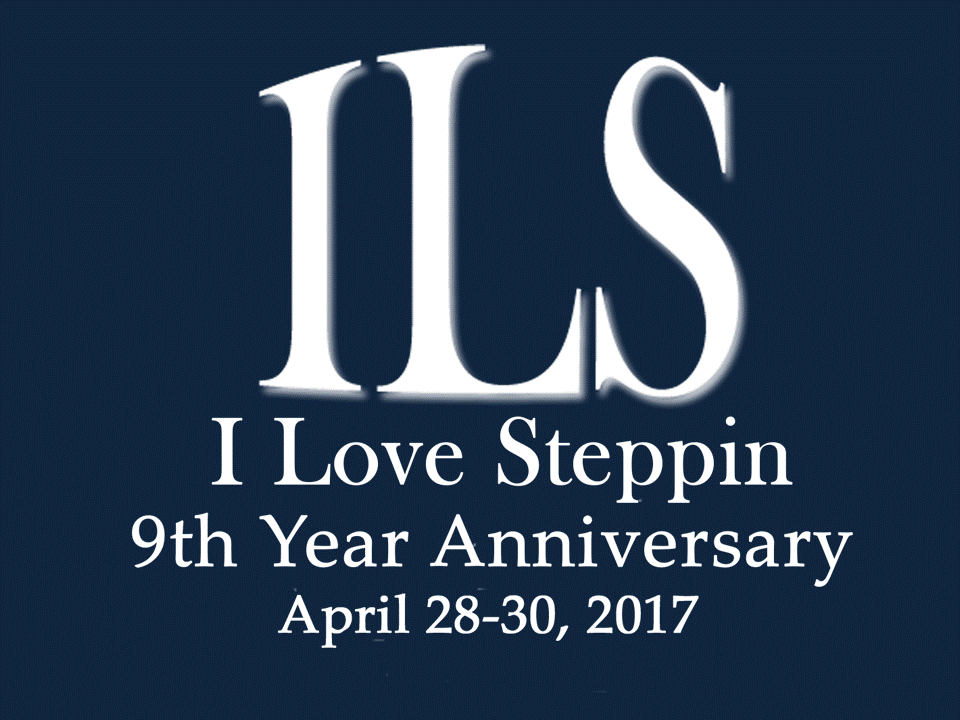 I've observed Jeff Clark go from a weekly steppers set of about 20 people per week at Cuzins and Firewater II Bar & Grill and then to a set with 200 at the hotel St. Regis and now finally to the 600 plus set at the Dearborn Ford Performing Arts Center this past weekend. I'm so proud of him. The DJ lineup was stellar. Mykel "Shorty Smooth" Farr, "DJ Butta" and "Black Cool" Michael Thornton. I hate I missed DJ Amy Rosseter out of Lansing and DJ Calvin from Chicago but the talk is that they both represented well. Amy…you're on your way!
How to survive as a promoter in the Steppin industry
For the most part, the largest and most successful mega steppers events belong to non instructors…let's be honest. I don't know what it is or why that is…they just do. Jeff Clark is a likeable guy that likes to sell steppin apparel and throw steppers sets a la "come as you are." Rockin Rodney Mack is the same way along with GDI (Good Deeds International) out of Atlanta, etc. Jeff Clark is the prototype of what keeping your nose clean can get you. Something to think about for anyone wanting to join the foray of promoters in this industry.
Opportunities are always present for other promoters or instructors to throw support sets and or parties in addition to the Friday and Saturday night sets that Jeff Clark throws. Michiganders Denise Hill and Lillian Davis decided to throw day sets featuring Chicago's Jeany Bradley, Vicki Henning and LaShawn Taylor as guest instructors. From what I understand, about 50 supporters came out to receive instruction and dances from surprise guests such as Donnie Davis, Tyk Myn, Westside Mike and an array of others notables. When asked what homework needs to be done based on her observations, Jeany Bradley responded, "Men need to watch their partner when they are dancing and make sure they know what they wanna do instead of just doing anything. That's a big problem that's gonna need to be corrected. Men dance WITH the women you're dancing with."
I missed the Sunday brunch with You+ Me = We but from what social media displays it was a great experience. Congratulations on another successful event!
I am very dedicated to displaying the talents of the next generation of steppers (NexGen) that are coming out today and I am very proud of Oni Faulkner and Arnel Cross' television contribution in promoting I Love Steppin. With Larry Collins' assistance, more and more people were drawn to the weekend events who don't even step from the Detroit metropolitan area. In addition, Detroiter Nikisha Wallace-Nabors was the buzz of a lot of conversations from ladies because of the time and effort put into Oni's hairstyle. By the way, Nabors is the official White Party Detroit Hair, Arch and Brow Stylist. Start booking now!
Tyk Myn is back!!! Always humble and willing to dance with everyone, Tyk Myn made his way to the dance floor to continue his contribution of tying old and new skool styles of steppin together for 2017.
If you look up the word "smooth" in the dictionary, Detroiter Taylar Raymond's face is part of the definition. There's footage on her Facebook page of her dancing with Drew and Tyk Myn that will leave your mouths open if you are trying to improve on your following ladies. I need to add that Taylar has only been dancing for about two years now and comes from…where else…but the Smootivity Camp under the instructional styling's of "the Phenom" Drew Alexander. Drew definitely has a slew of developing steppers that leave that mark in the city every day. Texas steppers…be sure you give him back! Also from his camp, Wakeba Reid shined this weekend as well. Speaking of Drew…he took a break from Texas and came back to promote his weekend dance extravaganza the Ultimate Detroit Dance Experience August 11-13. This dance event features many styles of dance which broadens Drew's roots and experiences in the other dance arts that Drew is accomplished in.
I had an opportunity to see how much of a professional Jeff Clark is this weekend. There was a medical emergency and another "distraction" that tried to take partygoers' attention away from the positivity of the weekend dance experience but Jeff took it in stride and never ONCE let on that there was a problem. That's another handclap for Jeff!
There's a man named Greg Boxley out of Seattle,Washington that blew my mind away with our two back to back dances. He's a hidden gem if the World's Largest stage if you don't use it as a litmus test of accomplished steppers. I hope he comes back for Rodney Mack's White Party in June. Michelle Crowder, Michelle Jones, and Shawnie Hubbard…thank you for your kind words Saturday night…you rock! Darlene Mans…where do you get your energy from lady? You stay on that floor! Pete Frazier, Joy Bufford, Karen Allen, Karen Ware, Jacqueline Jones, Carlos and Bendetta, Dana White Scott, Neicy Johnson and Cliff "Big Slim" Reynolds. Kena, Titania, VaShon and Genevieve were front and center as was Jacques Sanders, The Powes, The Louris', Mistalocks and "The Ban Man" Shawn Bandy…to name a few…just a few.
Jeff's I Love Steppin Crew
Rose McDaniel, Deborah "Partypeople" Dixon, DJ Kirk Peterson and I would like to make sure that Jeff knows we have enjoyed this ride with him and we hope and pray that the I Love Steppin train doesn't stop anytime soon.