The 2017 Rockin Rodney Mack White Party Review Back
Jun 20, 2017
By Tracey Bivens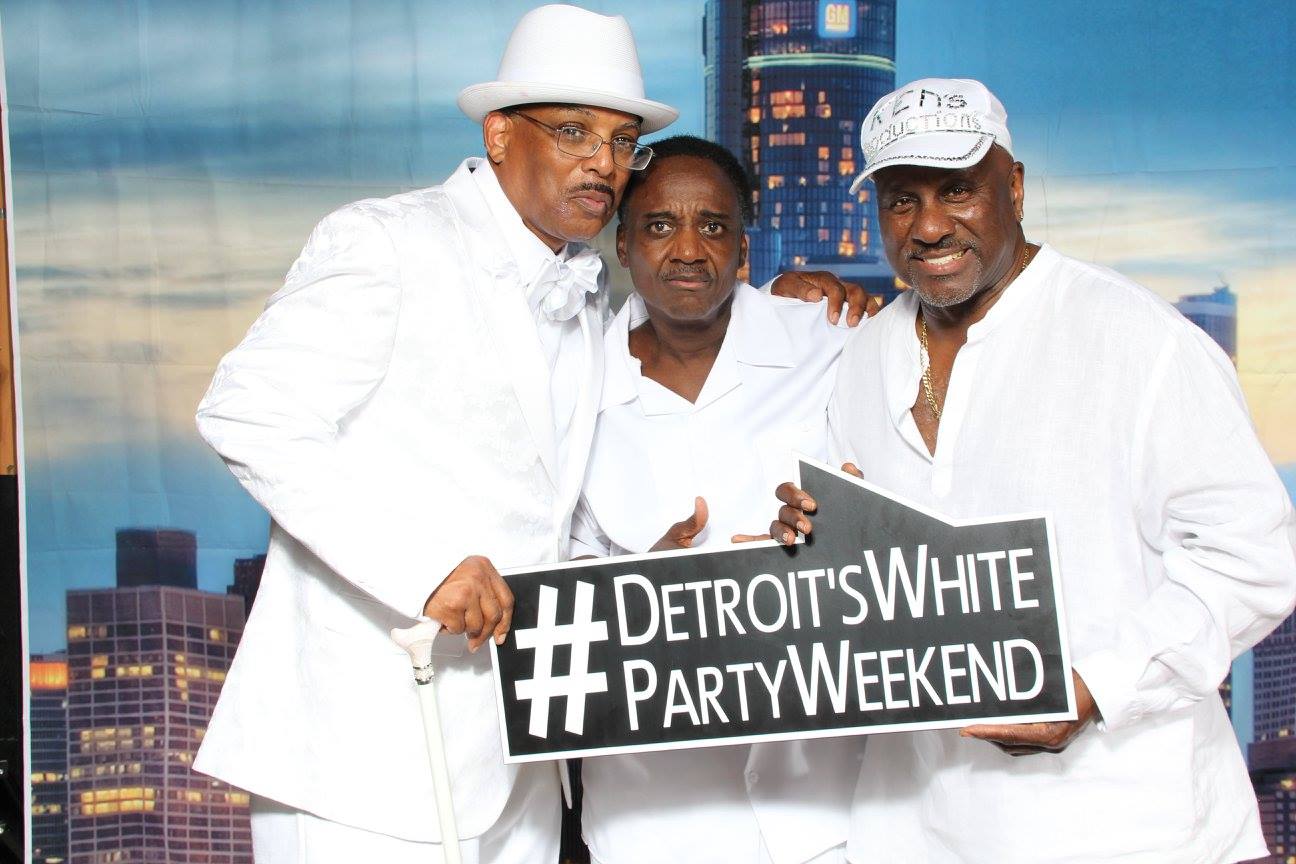 Well…another one has come and gone! Rodney Mack's 2017 White Party has done what it set out to do. It brought approximately 2,000 people together under one roof for a series of steppers sets, workshops and other surprises.
The name is John. John Lucas…that is.
I don't think there's anyone in the land of steppin who has not met, heard of or seen John Lucas from New York. Yeah… he's the one that's over 6'4 and killin 'em with the Colgate smile. A couple of years ago, John came in like the March wind livin' his life on the dance floor. And guess what…he came again to the White Party and did it again! Everywhere you turn, John was twirlin the girls or meeting and greeting folks left and right. You would have thought it was his party too! He is truly one of the darlings of the step world. John represented in the Ladies Lead Contest with one of the best following and original styles that has ever been witnessed in that exhibition. He and Sarah Teagle didn't win but the audience members were yelling "Go J Lu! Luuuuuuuu!!!" You just don't come onto the steppin scene and get popular overnight…unless… you're John Lucas… who has come into stepland…and slammed the door!
April Showers Bring April Simmons
If you attended the Ladies Lead Contest you saw many skilled women leading men all over the floor. But if you were really paying attention, you saw April "Cincinnati Red" WORK the floor. April can follow with the best of them but in all my years of leading and watching women lead, this girl right here…smooth like butta. She made me a believer that her skill set has left a mark in the steppin and April's mark ain't goin nowhere! Watch the video of her performance if you can. Great job Angel Deborah Dixon for putting the event together. People really seem to love the concept.
The Workshops
Of the workshops that were presented there were three that were marked as the most creative and in terms of content based on my interviews with the attendees.
1. U+Me=We has always made sure that all the information they present is new, innovative and useful. For the attendees of their "Connect the Dots" workshop, it was noted that the entire group was utilized in making sure everyone walked away with something to use THAT NIGHT. In addition, they are now known as the organization that presents the ultimate customer service with follow up tokens of appreciation and e-mails to check on the status of some of their students . Every city and state can truly benefit from U+Me=We's high level of instruction in steppin, etiquette and courtesy.
2. DJ Shorty Smooth Mykel Farr presented the "So You Want to be A DJ?" workshop. I sat in on this workshop because I asked Mykel to do it and wanted to see how well he communicated his craft. Please…Mykel Farr is more than a DJ. He is very wise beyond his years and understands the science of audio equipment, music, reading a crowd, and dealing with people in general. It's easy to understand why Mykel has traveled so extensively in this dance genre. I would like to see Mykel take this workshop to venues outside of the steppin world and into the corporate sector. If you don't believe me…invite Mykel to your next mega event and have him do THIS workshop.
3. Ohio is in the house! Choc James, April Simmons and Suga's workshop was deep with information and hands on instruction! Choc's marketing skills has helped put this trio, along with their other group factions, into the arena of bonafide steppin instructors. Unfortunately, there are some individuals who are going around publicly questioning the validity of a group teaching others when they themselves are so young in the dance. In response, Choc said something very profound to me over the weekend and I appreciate his honesty and spirit. "Tracey…steppin instructors don't need two decades of instruction to be qualified to teach. They don't need the contest stage wins or the validation of people who are negative by nature. To flip it…negative publicity is publicity. Our group has a sound understanding of this dance… we have a lifelong desire to continue to learn this dance and we are on a mission to make a positive imprint on the path that was paved before us by our steppin predecessors from Chicago." This weekend, there were many people who hounded me about getting in touch with the James' and April Simmons and bringing them to their cities.
The Presentations
Many steppers are often recognized at the mega-events. On Saturday night, this was the first year where Rodney Mack actually gave out plaques to notables such as Ms. Mary, Black Mary, Taboo, and Greg Richardson. One special award went to my friend who received the Vanguard Award. Tyk Myn. Many people that haven't been steppin that long don't realize the impact that Tyk Myn has as he traveled to over 25 states to teach his style of New Skool steppin. The mega events were born out of the travels of many instructors out of Chicago and other states but Tyk Myn was the FIRST and he finally received an award that recognized his accomplishments for doing just that. Onlookers were treated to an exhibition of Taboo, Tyk, Shawn Bandy and Pete Frazier steppin. I was told by Original School steppers that it was never called "man on man" in Chicago so that's why I'm not using that term to describe that dance style now that was done by those gentlemen. The quote of Saturday night, "Shawn Bandy is SUPER blessed to be invited to grace the dance floor with that amount of talent! I'm jealous!!!"
The PreLims
Three names. Drew Alexander, Ann Hunter (New Skool) and Taylar Raymond (Walking with Drew). Not to sound sacrilegious but this trinity out of Detroit will bring you to your knees in prayer in a competition. That is all.
The Forum
Pete Frazier pinch hit for Terrance Pratt of Chistepper.com Sunday morning and hosted a small but interesting forum where Don Vic, Black Mary, and Taboo spoke about some events from their various decades of dance. I really wanted Donnie Davis to be on the dais. Every new stepper that travels to Chicago should make sure that they go to two places. For the 19 years I've traveled to Chicago, Donnie Davis' Workshop and the 50 Yard Line have been my constant favorite go to spots. It would have been nice to hear how impactful Donnie's workshop/class has been all these years for all the out of towners who attended the forum. One faithful student of Donnie noted that he has had thousands of out of town visitors over the years. Most notably, visitors of Donnie's class love the fact that old and new skool steppers volunteer their time and help people perfect their craft…for FREE every Saturday.
Best Practices
Moving towards the 15th anniversary next year, the Detroit White Party franchise will make a concerted effort to address many of the concerns that were brought to our think tank via "verbal surveys" so that the experience will be great for everyone. Look forward to creative ideas to make allow women to have more dance, better use of paperless communication and new activities throughout the day.
Checkmate
I gotta say this though. Because Rodney Mack is the sole proprietor of the White Party and I'm one of the "Angels", I can personally attest to the fact that he tries to accommodate everyone to the best of his ability so it confuses me as to why some people seek to take advantage of his kindness. There are very few mega events and promoters that would put up with people always wanting them to pay for their entertainment out of their pocket as if putting on the affair wasn't costly enough. I have watched this man for 15 years travel across the country by himself promoting his affairs, DJing , meeting new DJs and inviting them to play at his events, supporting other promoters' events, etc. He has compromised his health on many occasions and sacrificed extra time he could have spent with his only son Deontae to personally meet with everybody that has something to do with making the White Parties successful. He crosses every "t" and dots every "I" by himself. That's over 180 people here in the Detroit Metropolitan area year after year beginning in July. As a community of steppers, we shouldn't mind investing in something that brings us all together in the spirit of steppin and not in the spirit of leeching off of one another. We gotta do better.
On a Positive Note…
The Host Hotel, Edward Village, wanted to give all the guests a shout out. They said that never before have they encountered a massive group of people who carried themselves with such class and dignity. The staff was so impressed with the event that many of them want to learn how to step just because they saw how respectful everyone was being towards one another.
As for who all attended the event, I'll let the Facebook pictures do all the talking.
See you all next year!