When One Door Closes Bobby Green Opens Another! Back
Oct 2, 2016
By Tracey Bivens
One things for certain and two things are for sure. Detroit's dance community takes their dancing, DJing, venues and promotions very seriously.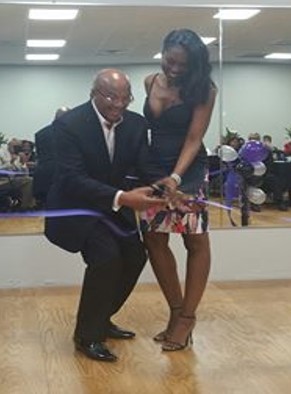 For years, former Enchantment R&B singer and entrepreneur, Bobby Green has been a catalyst in the Detroit community. As the first promoter to host steppers sets and instructional workshops in his dance studio in Southfield, also known as The Steppers Cafe, Green has always sought to support every facet of dance there is.
This past Saturday, Bobby Green and Tamera Patterson opened up Whirl of Entertainment, L.L.C located at 25851 Lahser Road in Southfield, MI to about 150 people who came to lend their support. This adult centered studio will be offering instruction in Kizomba, Steppin, Graytone, Line Dance, Hustle, Zumba and Detroit Style Ballroom. The studio will also offer its space to accommodate bridal and baby showers, meetings, and other social gatherings.
This 1,400 square foot studio also offers an ash wood sprung dance floor which is rarely seen in most dance venues or studios. This serves to prevent damage to ligaments and muscles commonly found in most dance venues which house wooden floors with a concrete underlay.
When asked how this dance studio differs from the Steppers Café and other dance venues, Bobby Green offers the following statement, "Along with myself, I have certified instructors coming in from all over the country to teach dance elements to the people. Instructors like Marc Brewer, Trisha Stuckey, and Barry Douglas are supporting this studio and will be offering classes to the general public to showcase THEIR talents as well as our own community's talents. It's all about working together for one cause. Dance."
In the spirit of supporting another black owned business in the dance world, I invite everyone to come out and visit this beautiful facility and to sincerely patronize this business and I reiterate…business.
For more information regarding pricing and schedules, please call 1-866-502-2540.
Congratulations Bobby and Tam!