DJ Rockin Rodney Mack's 13th Annual White Party Weekend Back
Jun 21, 2016
By Tracey Bivens
Number 13 was a lucky number this year because it was that time of year where steppers from all around the country come under one roof at the Edward Village Michigan Hotel in Dearborn, Michigan to celebrate their love of steppin with Rockin Rodney Mack, friends, people they've watched on social media videos and a myriad of other reasons.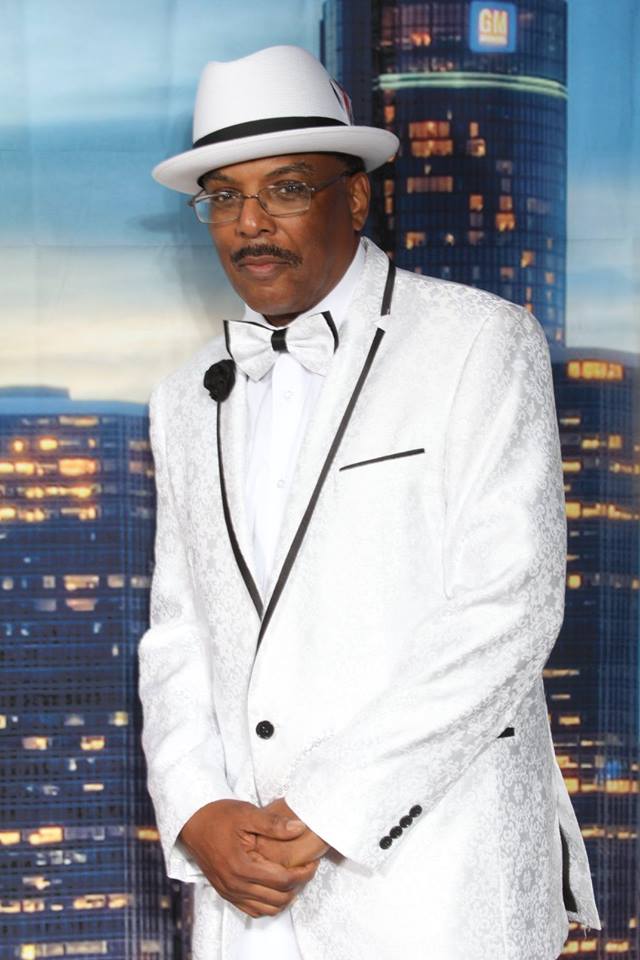 The Spotlight
The vendors certainly played a role in attracting many consumers to the table this year. The White Party had over 14 vendors this year, which is a record, all under the auspices of our new Event Coordinator Dana White-Scott. If you needed anything that was fashion related, the vendors were there to supply your every need from shoes, jewelry, hair and skin products, clothing, CDs, and oh yes…those hats. Sconi Wear hats made a killin Saturday night! I personally witnessed 20 hats sold in less than twenty-five minutes!
The spotlight award goes to any and everybody who attended all nine parties which began on Wednesday night. As always, it's good to see the veterans come in but the first timers are so cute because they are so bright eyed and bushy-tailed about the White Party.
The Old School steppin or "JBin" style was demonstrated Friday night by Chicago's Kathleen Wiggins and Josiah Burt. In the words of the kids today… they SLAYED IT!
The 2016 Worlds Largest is on and poppin. Quite a few couples have entered with dynamic prelim performances. Stay tuned to Pete Frazier and the Majestic Gents' list.
A young man from Detroit by the name of Allen Downer got an opportunity to officially make his debut at a mega event under the watchful eye of his aunt Zinne Kimbrough. He is one of many up and coming "youngsters" like 12 year old Antonio Sherman from Detroit, Brice and Olivia out of Atlanta and a young lady named Cami whose place of residence I'm not sure of. These children are hungry and humble and are clearly enjoying the dance in their YouTube footage. The first adults I witnessed years ago helping to mold young steppers is Sherry Gordon when she was helping Drew Alexander in his journey and The Steady Steppers camp through the years. It only takes one to reach one and teach one. Let's keep encouraging the babies.
New York native John Lucas let everybody have IT Friday night! Not only is this young man a force to be reckoned with on Broadway as a professional entertainer but he truly LIVED by being showcased doing the Hustle (Latin Hustle)with leads by Sherry Gordon and Drew Alexander. When I tell you "JOHN LUKE!!!" was being yelled out the entire weekend…I am not exaggerating. He IS going to dance with all the women because they love him to death, he;s going to get his following in as well and he's going to help make the atmosphere what it's meant to be…FUN!
Political Correctness
Let me see…how do I say this….? Here's a sure fire way to get banned from a mega promoter's event. If there are systems in place (which they have been in place for the last 10 years) that features attendees on a specific night i.e. the WLSC prelims, you definitely don't want to do anything that is "attention seeking" by being disrespectful or rude because now…it's a wrap!
The Workshops
Viva la difference! I have always been an advocate of creativity. The standard workshops where one or two people stand around and make people do the same thing over and over again for two hours should not be happening in 2016 because everyone doesn't have the same learning style. So when You + Me = We came up with their "Connect the Dots" workshop with over 40 attendees, I was anxious to listen to the commentaries from inside. I asked Terrance Pratt from Chistepper.com go into the workshop because I wanted to be sure he talked about it at Sunday's forum. There's a lot of creativity and fresh talent coming from all the members of the group which is why they seem to be doing a lot of traveling and instructing these days. There were also numerous comments that the workshop was successful because it stressed key elements that are needed to make anyone's dance better who desires their dance to be better i.e. listening to music, how to feel a song, etc. If your city is shopping for an instructional team that offers structure, skill and fun…you don't need to look any further.
The Steady Steppers featured the first Detroit White Party Ladies Lead Workshops and provided a nice amount of women with right foot lead skills. Hats off to this type of workshop being introduced to us as well. When I asked Larry Collins about his decision in teaching women how to lead he told me, "It's simply a matter of supply and demand. We have always had a sound curriculum that's worked for us in the areas of trios, fundamentals, walkin so now we are accommodating the many requests we have received to teach Ladies Lead techniques all over the country. "
Vet Ann of Detroit has definitely got the fitness training on lock with her Zumba session. A large trail of women came to get fit, trim and tight on Saturday morning. Everybody that came out said, "Vet Ann for President" literally. (Laughter) Again, I would definitely encourage ballroom, salsa, etc. organization to feature cardio work outs as a part of the workshop regime.
The Dancing
I must say that I was hoping to see some new…well…dynamic moves that would make people want to learn them. When I say "moves" I'm talking about steppin household terms like "pitty pat", "carousels" and the "kickstand." I'm wondering if the dance has leveled off as far as "creativity." Correct me if I'm wrong but what has been introduced since "stealing the beat" and "multi-carousels" from yeeeeaaarrrrrrs ago?
The Ladies Lead Contest
The Saturday Day Party brought with it the $500 ladies lead contest. The first "transparent judging system" was presented that afternoon. As each couple danced, their scores, from 1-5 typed on a large poster board sized paper, were held up by each judge and was seen by everyone which meant instant calculations. Why don't we see this at the WLSC or other large contests? It was surprisingly well-attended with over 250 people in attendance. Female lead notables Sherry Gordon and Tango Ernest and Chicago's Jeany Bradley and Milwaukee's DJ Shorty Smooth scored very high in their performances but it was Gordon and Ernest who came in first place. Being a female leader myself, I gave props to Sherry on her win and asked Jeany how she perfected that MONSTER smooth male flow that she has. She told me that her sisters helped developed her skills and just having the ability to pick up things visually. Beginner/Intermediate couple winners were Jamaican bred but now Georgia resident, Shelly Holder, and Flint's Feo Duncan whose absence has been genuinely missed from the Detroit White Parties. According to one woman who attended who said, "Oh wow…so that's Feo Duncan! I've been trying to meet him for years."
The Forum
I told myself I was NOT going to the forum and get my blood pressure up this year. My butt went of course. I will say that I learned some things from Josiah Burt and Jannice Robertson about teaching footwork and fashion from the 1970s steppin group that I never knew about so knowledge is always a blessing. The Davneys were also in the house and I think they are going to be my next interview. I have this thing about couples standing the test of time in the world of steppin. Other topics included "The New Normal" letting kids into steppers sets, should steppin music change from the 1970s, different eras of steppin and how many dances should a woman get from one man per night.
Best Practices of the Weekend
One of the few mega sets where endless carafes of water and ice are provided on the house
Twice as many vendors this year with some NICE items
A huge array of DJs with different styles
Free food at the picnic
What's Needed (informal poll taken)
Raffles to win a hotel room for one night
Continental breakfasts and donation based shuttles to the shopping center across the street every 30 minutes
Have the forum on Saturday before the workshops so more people can attend
Have a foot and back massage chair service available
The Attendees
EVERYBODY!!! If you don't believe me…check out Facebook and Instagram.
Special recognition goes out to the steppers from Michigan, Ohio, Wisconsin, Africa, Bahamas, New York, Conneticut, California, Nebraska, Tennessee, Alabama, Mississippi, Kentucky, Florida, Illinois, Nevada, North and South Carolina, Texas, Maryland, Alabama, Arkansas, New Hampshire, District of Columbia, Kansas, Oklahoma, Iowa, Missouri, Indiana, Pennsylvania, New Jersey, Virginia, Georgia, Colorado, Arizona and the Dakotas. Hey…we are almost at all 50 states. Woo hoo!
ANNNNDDD…my White Party Angels cohorts, Rose McDaniel, Nicolle Holsey, Kishra Williams, Karla Jeffries, Debb "PartyPeople"Dixon, and Rebecca Atkinson .
Someone asked, "How long are these White Parties going to go on in Detroit? Simple answer: until Rodney gets too tired to throw anymore or until the steppers do. And with over 1,500 in attendance this year…and reservations being made as I write this…I don't think that will be anytime soon.