What's the 411 with Paul and Popeye? Back
Mar 20, 2016
By Tracey Bivens
There was a lot of number running Saturday night in the D. DJ Paul Ross "The Boss" and Toledo socialite Kenneth "Popeye" Gregory ushered in their new partnership of 419 + 734 (a play on area codes) Productions at The Showplace.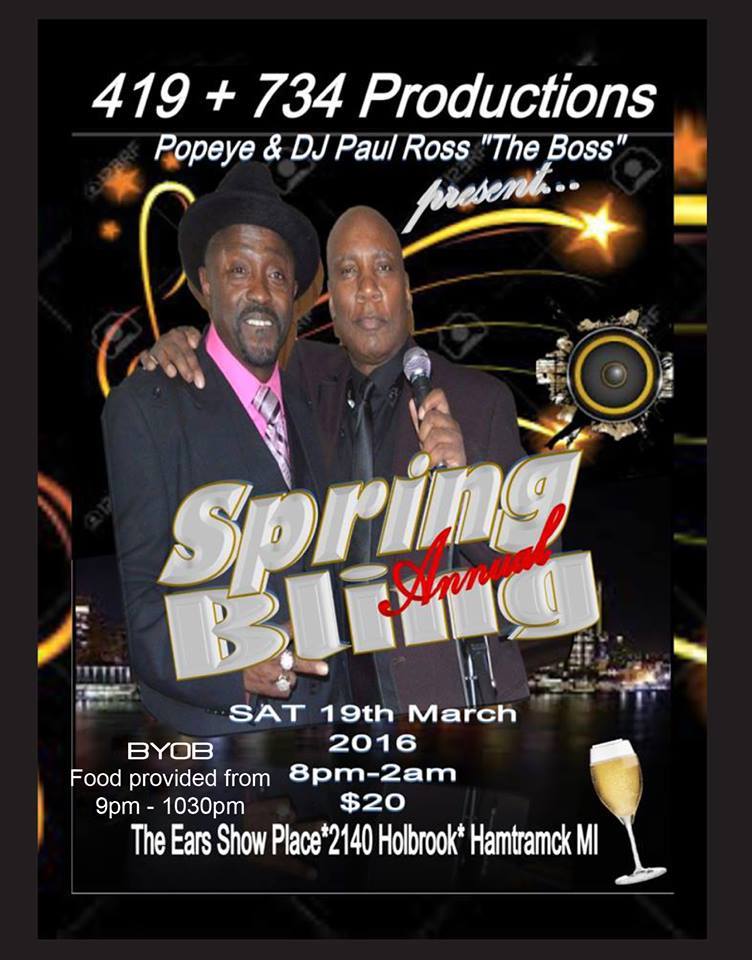 There had been some speculation as to if a two man partnership would work in the D on a Saturday night. You had Paul Ross who dibbled and dabbled with functions for years trying to pay his dues as a respected steppin DJ and then you had Popeye who supported everybody's function in Michigan and Ohio for years but was relatively quiet on the scene. Could they garner a crowd? Answer: Yes…they sure did.
Women and men from Detroit, Lansing, Kalamazoo, Toledo, Dayton, Akron, Columbus and Cincinnati were treated to a night of music, good food and cool steppers. I knew it was going to be a party when I saw Detroit's steppin sweethearts Oni Faulkner and Nikisha Wallace Nabors wow the community with their footwork and fancy footwear all night.
I have to give it up to Paul and Popeye because not once did these gentlemen feel a need to stop the party, take center stage and introduce themselves or any of the usual fanfare that goes with steppers sets. Their main focus was making sure everyone was comfortable and having a good time.
Speaking of cool steppers, I got to meet and step with a former Chicago resident now representing Toledo, Clint "Rock" Rockward. Many of you have probably never seen this guy but when I tell you to imagine your three favorite steppers rolled into one…he's your man! And let me tell you… the MOST impressive thing about him…HE'S NEVER BEEN IN A CONTEST. The steppin community always uses the WLSC as a litmus test to measure fierce steppin skills. Please stop if you do that. By the way, there has been some mention of Ohio male steppers not having their "weight" up when it comes to steppin on social media recently. Uh…I must disagree. "Rock" must have danced with 25 women last night and each dance was unique to the woman he danced with. He had the Chicago swag of course but he is definitely an influence in the state of Ohio along with Choc James, Ambrose West, Aki Carter, Juan Hall, Selwyne Hodges and JB Burns. Please don't sleep on Ohio people; they are giving the male steppers in Detroit an equal playing field to step on in 2016. If you don't believe me…come to I Love Steppin's 8th Year Anniversary, April 22-24 in Dearborn, MI.
Having said that, I had an interesting conversation with Stan Brooks last night, one of the Original "Showstopping Six" male steppers in Detroit. There seems to be a misconception that in the early 2000s there were no men puttin it down on the steppin floor in Detroit. Please believe me when I tell you that there were people from Flint, Lansing, Toledo and other young cities who stayed in Club Yesterdays and Club Paradise admiring the footwork and combinations of Stan, Damion Mitchell, Buford Collins, Larry Collins, Kammal Smith and James Pacely in the early days. #FactCheckTime
Other than the dance floor being overly waxed and like an ice skating rink, Paul and Popeye have definitely paid their dues and can now be placed among the ranks of established steppin promoters in Detroit and Ohio. I think 200+ people would agree with me.
In the house were Popeye and Paul's First Ladies Geneva and Debra, Larry Collins, Rose McDaniel, Deborah "Partypeople" Dixon, Kena Broach, Vashon Collins, Titania Jordan, Charlene Stokes, Amanda Anderson, Gina Ellis, Leonard Gregory, Darby "Mr. Debonair" Settles, Phoebe Stewart, Flex, Karen Ware, You+Me =We, former Chicagoan now reppin the D, Yolunda Townsend, Chelita Walker, Jacqueline Rockward, Rendia Wells-Mitchell (Cleveland), Joy Bufford (Akron), Jay Johnson (Kalamazoo),Valencia Stewart , Yvette Coleman, Darlene "G-Doll" Mans, Brenda Williams, and DJ Amy Rosseter (Lansing). Click here to chack out the photos from the party.